It's that time of year again.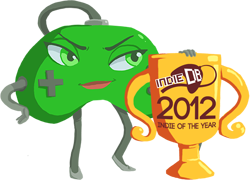 For those unfamiliar with the event, each year ModDB and IndieDB hold a contest for the best mods and indie games of the year.
In previous years we have been nominated for the Editor's Choice: Best Upcoming Indie (2008), won third place for Indie Game of the Year (2009) and received an Honorable Mention for Players' Choice: Best Upcoming Indie (2010).
We've come a long way this year too. Just think about it: A year ago we had no Romans in the game, and Hellenes and Celts were grouped into one faction each. There were no technologies or civilization phases, no trading system, and none of the amazing newly implemented graphical effects like specularity, ambient occlusion, etc.
As always, we want to win! More publicity means more players and probably more developers joining development, which is always great.
The nominations for the Top 100 have just begun, and will be ongoing until December 11th.
Thanks in advance, from all of us on the 0 A.D. development team, also known as Wildfire Games.