I'm taking a break from the regular blog progression to address a recent question I received – regarding the instruments I own that were used to create the sounds of 0 A.D. :
All these blogs make me wonder: Just how many instruments does Omri have? He seems to own 5-6 instruments for every civilization!
Let's start with admitting that I have a problem… I am an instrument hoarder, I have around 40 different ones in my studio… Let's take a look at the instruments that were used to create each civilization's distinct sound: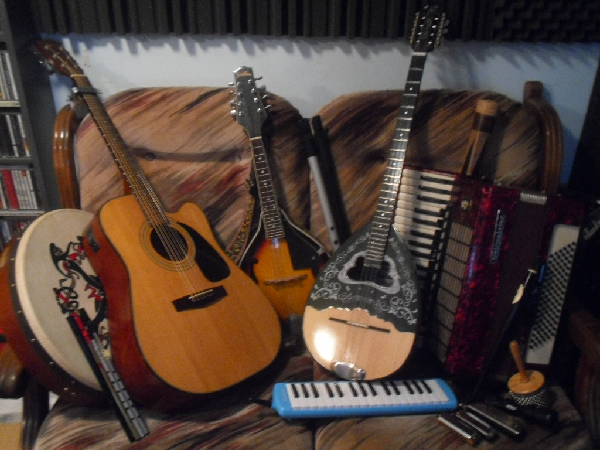 Celtic Tribes: The sounds of Celtica are based on a duo of D tin whistle and low D tin whistle, along with an Irish bouzouki, a Bodhràn (traditional Irish drum), a rain stick, and a fender acoustic guitar. Some tracks also feature a Celtic harp (sampled) and a fiddle played live by Shir-Ran Yinon!
Hellenic Tribes: The Hellenic sound was created using a Greek bouzouki and a flute (played by Marta Mc'Cave!), as well as large frame drums, a djembe, a harp (sampled) and horns. The Greek bouzouki is so prominent, some of the Hellenic pieces are based entirely on it!
Persia: The sound of Persia consists of several stringed instruments – a handmade Oud, (traditional middle-eastern instrument with 11 strings and no frets), a handmade Saz (Turkish instrument with 6 strings), and a slightly more modern – home made fretless acoustic bass guitar.
As well as some percussion sounds – an African djembe, a Syrian darbuka, and a pair of bamboo shakers.
Rome: The primary sound in the music of Rome is a mandolin, as well as the wind chimes which were recorded on my porch!
Iberia: The voice of Iberia is centered around the Spanish guitar, as well as a Fife, a tambourine and a shaker.
Carthage: For Carthage I brought in percussion artist Dror Parker to play frame drum, darbuka, riq and toms. He recorded those in freestyle, and I then built the music around his work. While the Duduk is sampled, the bamboo flute was played live.
Mauryan Indians: Sadly, I do not (yet) own a sitar, so I came up with a replacement and used my homemade fretless guitar. I also recorded a snake charmer that was actually bought in India, finger cymbals, and a homemade rice shaker.
On the next post we'll go back to the chronicles of making this score 🙂
Thanks for listening, stay tuned for more 0 A.D. music!
– Omri Lahav.