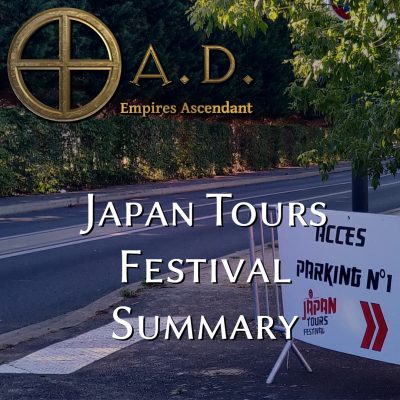 Summary of attendance at the Japan Tours Festival 2022
From the 1st to the 3rd of July I held a booth in Tours, France. This was a first for me as this was a completely different event from the ones I was used to. For those who don't know, the Japan Tours Festival is, as its name suggests, a Japanese-themed exposition, with lots of shops where you can buy Japanese merchandise, but it also has a lot of cosplay, and shops that provide anything you might need for your next event, from a rubber sword to a furry costume. But most importantly, it also features an indie development section, where indie projects can come to show their new games, and homebrew projects (projects that create games for old consoles such as the NES) can sell their cartridges.
To my knowledge, this was the biggest event 0 A.D. had been invited to. It had 21,856 visitors and 167 special guests.
As usual, we were still a bit apart because we were the only FLOSS game/project. People were quite surprised to see we were free and that while being a 22-year-old project they had never heard of us. They were even more surprised to learn we were only volunteers.
During the whole weekend, the public was allowed to vote for their favorite indie project and we made it to 3rd place out of 9 competitors!
I gave two interviews (FR), one for the Anjou Pop Corner and one for the event with KeydeeGamerBoy You can find the cut video here(YouTube) for the latter.
Feel free to ask your questions here!
The next event will take place in Vandœuvre lès-Nancy, France from the 3rd to the 4th of September. Hope to see some people there.
Thanks to all the people I met for the kind words and the constructive feedback, and thanks to the organizers and all the staff behind the Japan Tours Festival for allowing me to participate and for creating such a lovely event!
Special Thank you to Indie Beard who asked me to come and made me spend a wonderful 3 days. I hope we'll work together again in the future!